GenEZ™ Molecular Cloning Handbook
Comprehensive troubleshooting guide included
Download for free
Overview
Struggling to clone your gene of interest or wasting precious time troubleshooting molecular cloning procedures? Our Molecular Cloning Handbook will take you through the past, present, and future of molecular cloning and includes a comprehensive troubleshooting guide. Download it today!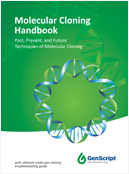 Get more protocols at molecular cloning central »
Want to Discover the Easiest Way to Clone?
The easiest way to clone is to let GenScript do the work for you through our sequence-verified, expression-ready, GenEZ™ cDNA ORF clones and ORF mutant clones.
Start by searching for your ORF sequence in our ORF clone database below, or if you know the accession number of your clone, place a quote directly by clicking the button at the right.
What Are the Advantages of GenEZ™ cDNA ORF Clones?