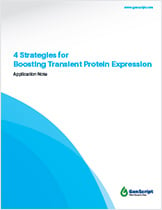 HD Transient Expression service can deliver higher yields of functional protein/rAb yields as high as 3 g/L
---

Combining our rich experience in both molecular biology and cell system engineering, GenScript has established as a world-leading expert in recombinant antibody expression.
---

Protein production in an E. coli system with guaranteed protein amounts, purities as well as endotoxin levels to meet a variety of your research needs
---

Virus production and expression of recombinant proteins from baculovirus-infected insect cell in a variety of insect cell lines.
---

Bioinformatics tools, webinars, case studies, technical resources and more.