Gene Synthesis & DNA Synthesis Services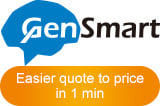 As a pioneer and leader in gene synthesis technology with over 600,000 completed gene synthesis projects for scientists around the world, GenScript has the expertise to help you achieve your DNA synthesis needs. DNA synthesis enables powerful solutions for molecular cloning, creating fusion proteins, or achieving sufficiently high protein expression levels. Compared to traditional molecular cloning techniques, GenScript's gene synthesis service saves both time and money while offering unparalleled top to bottom customizability. Up to date, the success rate and the on-time delivery rate of gene synthesis has achieved 99.95% and 98.5%, respectively. Geared up with proprietary technologies, GenScript offers guaranteed delivery time to ensure that your project is on track.
Gene Synthesis Service Options
† Typically, there is no additional charge on complexity of gene(s) or custom vector onboarding. We promise the transparency of each charge.
* The turnaround times here are estimates for non-complex genes. Turnaround time may increase as gene length and complexity increase. Please contact us to learn about discounted pricing for high-volume orders, institutional contracts, long-term partnerships, or to discuss your specific requirements. Be sure to check our current promotions.
Downstream services, including cloning, mutagenesis, plasmid prep and protein expression evaluation, are available at additional cost.
Customers retain all rights to the sequence data and related intellectual property.
Advantages of Custom Gene Synthesis
Guaranteed
turnaround time

Expertise
in easy to complex genes

No hidden
charges

1 minute
online ordering
Custom Gene Synthesis

Any DNA sequence, even complex, GC-rich, repeated, or long genes, with 100% sequence accuracy guaranteed.

 
Express Gene Synthesis

Delivery in as few as 4 days -- the fastest turnaround time in the industry.

Genes Made in USA

First response team and local facility allows fastest delivery; Data security meets information regulatory.

 
GenBrick™ Synthesis

Up to 200kb long DNA fragments, the fundamental building blocks of synthetic biology.

Economy Gene Synthesis

Customized genes starting at $0.19/bp with no minimum order size and no difficulty limit.

 
GenSmart Instant Quote

An online interface to ease quote and ordering process with intelligent algorithm.

Free Construct Design

A smart and free design tool to accelerate transformation of ideas into functional plasmids.

 
Free Codon Optimization

One click to maximize the expression of a functional protein by employing advanced and validated algorithm.
Quote and Ordering Process
GenScript offers an intelligent online smart quote system able to price any project instantly with best time and cost effective strategy in as short as 1 minute.

Our experienced Ph.D.-level project managers ensure that you receive professional service tailored to your needs and on-time delivery of ISO 9001 certifiedwhat\'s this? products with 100% sequence accuracy guaranteed.


Our customer service representatives are available 24 hours Monday through Friday. You may contact us anytime for assistance. Orders can be placed online, over the phone, by email or fax. Please have your payment information (credit card, purchase order or bank information) ready.