Important Notification on Rush Gene Synthesis Services Suspension
To keep providing quality services for your research, we are about to relocate the New Jersey facilities from 8/3/2020 to 8/11/2020. During the period, all rush services including gene synthesis, cloning, mutagenesis and plasmid preparation will be in pending. The orders placed before 8/3/2020 might be affected as well. For any question or urgent request, please contact your account manager for assistance.
Get up to
$900

Reduction on Your Online Orders! Learn more »
Gene Synthesis & DNA Synthesis Services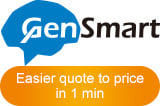 As a pioneer and leader in gene synthesis technology with over 600,000 completed gene synthesis projects for scientists around the world, GenScript has the expertise to help you achieve your DNA synthesis needs. DNA synthesis enables powerful solutions for molecular cloning, creating fusion proteins, or achieving sufficiently high protein expression levels. Compared to traditional molecular cloning techniques, GenScript's gene synthesis service saves both time and money while offering unparalleled top to bottom customizability. Up to date, the success rate and the on-time delivery rate of gene synthesis has achieved 99.95% and 98.5%, respectively. Geared up with proprietary technologies, GenScript offers guaranteed delivery time to ensure that your project is on track.
Gene Synthesis Service Options
† Typically, there is no additional charge on complexity of gene(s) or custom vector onboarding. We promise the transparency of each charge.
* The turnaround times here are estimates for non-complex genes. Turnaround time may increase as gene length and complexity increase. Please contact us to learn about discounted pricing for high-volume orders, institutional contracts, long-term partnerships, or to discuss your specific requirements. Be sure to check our current promotions.
Downstream services, including cloning, mutagenesis, plasmid prep and protein expression evaluation, are available at additional cost.
Customers retain all rights to the sequence data and related intellectual property.
Advantages of Custom Gene Synthesis
Guaranteed
turnaround time

Expertise
in easy to complex genes

No hidden
charges

1 minute
online ordering
Custom Gene Synthesis

Any DNA sequence, even complex, GC-rich, repeated, or long genes, with 100% sequence accuracy guaranteed.

 
Express Gene Synthesis

Delivery in as few as 4 days -- the fastest turnaround time in the industry.

Genes Made in USA

First response team and local facility allows fastest delivery; Data security meets information regulatory.

 
GenBrick™ Synthesis

Up to 200kb long DNA fragments, the fundamental building blocks of synthetic biology.

GenPlus Next-Gen HT Gene Synthesis

Highly parallel automated technology offers cost-effective high-throughput gene synthesis.

 
Economy Gene Synthesis

Customized genes starting at $0.23/bp with no minimum order size.

Free Construct Design

A smart and free design tool to accelerate transformation of ideas into functional plasmids.

 
Free Codon Optimization

One click to maximize the expression of a functional protein by employing advanced and validated algorithm.
New! GenScript gene synthesis with guaranteed turnaround time! Terms and Conditions
The following are estimates based on typical orders; complex sequences may take longer. For a more accurate estimate based upon your specific needs, please request a quote.
Sequence length
Standard Gene Synthesis
Cat No. SC1010
(Business Days)
Fast Gene Synthesis
Cat No. SC1619
(Business Days)
Rush Gene Synthesis
Cat No. SC1575
(Business Days)

≤ 800 bp

8 - 10 days

7 days

4 days

801 bp - 1,200 bp

8 - 10 days

7 days

5 days

1,201 bp – 1,500 bp

8 - 10 days

9 days

7 days

1,501 bp – 2,000 bp

10 - 12 days

9 - 11 days

7 days

2,001 bp - 3,000 bp

10 - 12 days

11 days

9 days New!

3,001 bp - 4,000 bp

16 - 20 days

15 days

11-13 days New!

4,001 bp - 5,000 bp

16 - 20 days

15 days

 

5,001 bp - 6,000 bp

21 - 25 days

 
 

6,001 bp - 8,000 bp

23 - 30 days

 
 
For genes >8 kb in length, please order
GenBrick™ Building Blocks for Synthetic Biology
Vector Type

Click on vector name below to see vector map and complete vector sequence

GenScript Standard Vectors1
(Free Cloning)

Express Cloning Vectors2

Over 150 popular vectors for mammalian, bacterial, yeast, or baculovirus/insect expression systems.

See Vector List

.

VectorArk™ Storage & Cloning

Free, secure storage of your custom or commercial vectors; $49 cloning into any of your archived vectors.

Learn More »

Other Vectors3

Any commercial or custom vector of your choice.
1: GenScript Standard Vectors: Synthetic genes will be delivered in your choice of Standard Vector at no additional cost. There is no need to mail us an aliquot of the vector.
2: Express Cloning: Subcloning into any of these vectors is $49 and 2 days extra turnaround time for sequences <10 kb. There is no need to mail us an aliquot of the vector.
3. Subcloning into any other vector not listed here starts at $149 and 5 days to turnaround time for sequences <3 kb. Please mail in an aliquot of the vector.
The standard delivery includes:
4 μg of lyophilized plasmid containing your gene insert (1 μg for low-copy plasmid) *
Sequence chromatograms covering your gene (electronic)
Construct map for the plasmid (electronic)
Quality assurance certificate
Quote and Ordering Process
GenScript offers an intelligent online smart quote system able to price any project instantly with best time and cost effective strategy in as short as 1 minute.

Our experienced Ph.D.-level project managers ensure that you receive professional service tailored to your needs and on-time delivery of ISO 9001 certifiedwhat's this? products with 100% sequence accuracy guaranteed.