GenParts DNA Fragments
GenParts are linearized, double-stranded and non-clonal gene blocks that can be used directly or cloned into any vector of choice for diverse applications, such as gene assembly or modification, CRISPR-mediated gene editing, and antibody, protein and pathway engineering. GenParts DNA blocks allow you to generate any natural, modified or de novo sequence without a template and eliminate the need for primer design or PCR optimization. Due to their faster synthesis and affordability, GenParts can be a great alternative to standard synthetic genes for high-throughput applications.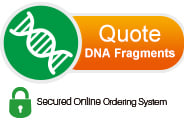 Advantages of GenParts DNA Fragments
✔ Guaranteed delivery in as few as 2 days to meet tight deadlines *
✔ Guaranteed low error rate for higher experimental reliability *
✔ Adaptor-free to ensure direct application in any desired experiment
✔ Precise quantity to avoid experimental variability and dealing with dilutions
✔ Wide size-range in high quantity enabling diverse applications minimizing amplification
*If we can't get it right, we will either repeat the synthesis of the failed fragment free of charge or refund your money. For more details about our service guarantee, check out our Quality Assurance section below.
New Resources
Learn More About DNA Fragments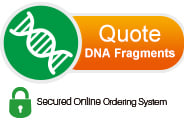 Our customer service representatives are available 24 hours Monday through Friday.
You may contact us anytime for assistance.