Gene Synthesis Handbook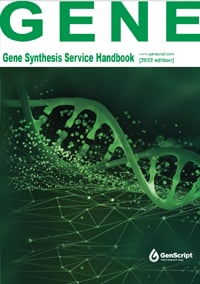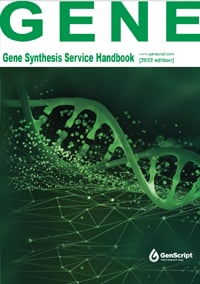 Gene synthesis is a timely and cost-effective solution to traditional molecular cloning. To help researchers learn more about gene synthesis, GenScript has prepared a handbook as a free educational guide to the technology.
Download our Gene Synthesis Handbook and explore our resource links to accelerate your research.
Gene FragmentsNew!
GenScript synthesizes customizable gene fragments, linearized blocks of DNA, which can easily be assembled by restriction cloning or homology based cloning methods into your vector of choice. Molecular cloning and DNA assembly has never been easier or more affordable.

Learn More
Gene Synthesis
Mutagenesis & Variant Libraries
Express Services: Gene Synthesis Bundle Options
Accelerate your research with one-stop downstream solutions
Express Mutagenesis
• Cut your turnaround time by half by bundling mutagenesis with gene synthesis
• Same unparalleled accuracy and flexibility as our Site-Directed Mutagenesis Service

Express Cloning Prep Service
Long-lasting, efficient mRNA inhibition in vivo
• Over 150 free, popular vectors to choose from when bundled with gene synthesis
• Decrease turnaround times to as little as 2 business days when bundled with gene synthesis

Coming Soon! Express Plasmid Prep Service
• High-quality plasmid preps with customizable quality control measures, industrial grade or research grade
• Decrease turnaround times to as little as 3 business days when bundled with gene synthesis

Molecular Cloning
Plasmid Preparation
Any amount to fit your needs
• Flexible scale, up to gram-levels
• ≥ 95% supercoiled DNA
• ≤ 0.005 EU/µg Endotoxin

GenEZ™ ORF Clone
Sequence-verified ORF clones
• > 2 million ORF cDNAs
• Starting at $99/clone, $149/ mutant clone
• Custom

Express Cloning
Save time with clone-ready construct
• $49 and 2 day turnaround time
• Choose from over 150 free vectors

Custom Oligos
Affordable modified/labeled oligos
• Customized modifications and labeling
• DNA, RNA, or chimeric
DNA Sequencing (North America)
• Bulk discount pricing available with convenient online ordering
• Secure online data retrieval for all of your sequencing orders