Gene Synthesis Handbook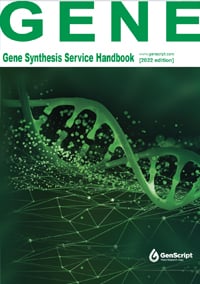 Gene synthesis is a timely and cost-effective solution to traditional molecular cloning. To help researchers learn more about gene synthesis, GenScript has prepared a handbook as a free educational guide to the technology.
Download our Gene Synthesis Handbook and explore our resource links to accelerate your research.
Gene Synthesis
Gene-Brick™ Synthesis
New building blocks for
synthetic biology
• ~10 kb long building bricks
• 100% sequence fidelity guarantee
Express Gene Synthesis
Speed comes from experience
• 2 flexible options: Rush or Fast
• Delivery in as few as 4 business days
Mutagenesis & Variant Libraries
Express Mutagenesis
Any variant from your design
• Unparalleled accuracy
• Large constructs up to 12 kb
• Starting from $99/mutation
Gene Variant Libraries
Up to 2000 unique DNA swquences in 30 days
• Combinatorial Assembly Libraries for Synthetic Biology
• Customized Libraries for any research application
Mutant Libraries
You design it, we build it
• Random, degenerated, or customized libraries
• Site-directed mutagenesis libraries
Express Services: Gene Synthesis Bundle Options
Accelerate your research with one-stop downstream solutions
Express Mutagenesis
• Cut your turnaround time by half by bundling mutagenesis with gene synthesis
• Same unparalleled accuracy and flexibility as our Site-Directed Mutagenesis Service

Express Cloning Prep Service
Long-lasting, efficient mRNA inhibition in vivo
• Over 150 free, popular vectors to choose from when bundled with gene synthesis
• Decrease turnaround times to as little as 2 business days when bundled with gene synthesis

Coming Soon! Express Plasmid Prep Service
• High-quality plasmid preps with customizable quality control measures, industrial grade or research grade
• Decrease turnaround times to as little as 3 business days when bundled with gene synthesis

Molecular Cloning
Plasmid Preparation
Any amount to fit your needs
• Flexible scale, up to gram-levels
• ≥ 95% supercoiled DNA
• ≤ 0.005 EU/µg Endotoxin

GenEZ™ ORF Clone
Sequence-verified ORF clones
• > 2 million ORF cDNAs
• Starting at $99/clone, $149/ mutant clone
• Custom

Express Cloning
Save time with clone-ready construct
• $49 and 2 day turnaround time
• Choose from over 150 free vectors

Custom Oligos
Affordable modified/labeled oligos
• Customized modifications and labeling
• DNA, RNA, or chimeric
DNA Sequencing (North America)
• Bulk discount pricing available with convenient online ordering
• Secure online data retrieval for all of your sequencing orders