Large scale genome editing for metabolic engineering of E. coli
Have you ever struggled with protocols to optimize production of metabolites in your bacterial strain? Constructing cell factories for industrial microbiology and synthetic biology applications requires extensive modulation of cellular metabolism for improved performance. In this webinar, we will discuss two methods to improve cell factory efficiency: we will briefly describe our CRISPR/Cas9 mediated genome editing technology and how it can help for the construction of efficient industrial microbes, and we will also discuss combinatorial DNA assembly strategies for metabolic pathway optimization. Together, this webinar will provide you with practical approaches for optimizing your microbial genome editing strategies.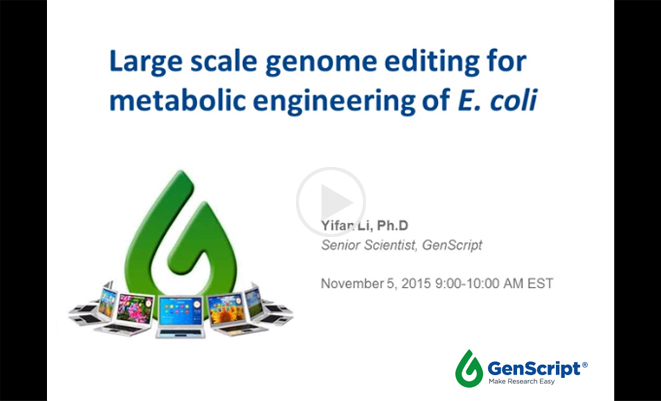 Presented by: Randall J. Platt, Feng Zhang Lab, Broad Institute of MIT and Harvard Originally aired on: November 12, 2015
Other CRISPR resources:
Gene functional study tools
GenScript provides the tools needed to accelerate your gene functional studies including services for gene overexpression, gene knockout, and mutant clone creation.
Overexpress
Knockout
Mutate

Targeted validated gRNA constructs
$199/ clone




Point mutations, insertions, deletions
Starting from $149 per mutant