A Guide to CRISPR /Cas9 Delivery: How to Maximize Your Editing Efficiency
While CRISPR/Cas9 editing is utilized in a wide variety of cell types, editing efficiency continues to pose a challenge to researchers. Join Dr. Allison Mayle, as she shares best practices for increasing CRISPR/Cas9 editing efficiency. Viewers will learn discover online tools to aid in CRISPR/Cas9 design and delivery, and tips for optimizing your CRISPR/Cas9 experiments.
In this webinar, Dr. Mayle will review the factors influencing genome editing, including target sequence selection and CRISPR/Cas9 delivery methods. A comparison of plasmid and viral vector delivery will be provided, as well as an introduction to DNA-free CRISPR/Cas9 ribonucleoprotein reagents. Additionally, Dr. Mayle will cover best practices for CRISPR knock-in mutagenesis via homology-directed repair (HDR) and applications available from new Cas9 protein variants.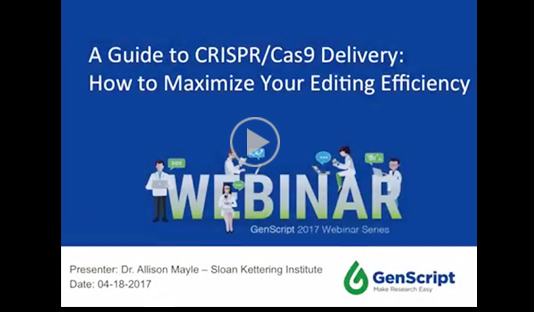 A Guide to CRISPR /Cas9 Delivery: How to Maximize Your Editing Efficiency
CRISPR gRNA Plasmids and Vectors
crRNA/Cas9 Protein Reagents
Cell Line Genome Editing

All-in-one gRNA/Cas9 or dual vectors available
Available in lentiviral, AAV, and plasmid vectors
In-stock, starting from $99

CRISPR reagents delivered ready for transfection
Reduced off-target effects
Starting from $195

Knock-out mutagenesis services
Multiple mammalian cell lines available for editing
Starting from $4,500