COL1A1 gene (Collagen, Type I, Alpha 1)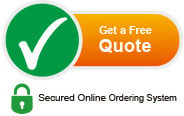 Do you need COL1A1 gene to express the COL1A1 protein for functional or characterization studies? Get the COL1A1 gene in an expression-ready vector for your molecular biology studies by ordering a COL1A1 ORF clone.
About the COL1A1 gene
This gene encodes the pro-alpha1 chains of type I collagen whose triple helix comprises two alpha1 chains and one alpha2 chain. Type I is a fibril-forming collagen found in most connective tissues and is abundant in bone, cornea, dermis and tendon. Mutations in this gene are associated with osteogenesis imperfecta types I-IV, Ehlers-Danlos syndrome type VIIA, Ehlers-Danlos syndrome Classical type, Caffey Disease and idiopathic osteoporosis. Reciprocal translocations between chromosomes 17 and 22, where this gene and the gene for platelet-derived growth factor beta are located, are associated with a particular type of skin tumor called dermatofibrosarcoma protuberans, resulting from unregulated expression of the growth factor. Two transcripts, resulting from the use of alternate polyadenylation signals, have been identified for this gene. [provided by R. Dalgleish, Feb 2008]
Genomic context of COL1A1 gene
The human COL1A1 gene is shown in the context of the human genome below. To see information about the COL1A1 gene in other species, please use the Search tool to select your desired species. GenScript has in-stock ORF clones for mouse COL1A1, rat COL1A1, and human COL1A1, as well as on-demand COL1A1 ORF clones in 183 other species.

Genomic sequence of COL1A1 gene

GenEZ™ ORF cDNA clones
GenEZ™ ORF cDNA clones make it easy to order customized expression-ready ORF clones from the world's largest commercial ORF clone database.
Related services or products