Peptide or Protein, That is The Question: Antigen Strategy for Antibody Production
Are you having difficulty designing the perfect immunogen for custom mAb generation?
Does your mAb have low specificity and/or affinity in different applications? Sign up today for this FREE webinar and learn how to design an optimum immunogen for your specific immunization strategy, price range, downstream application, and more.
To learn the main differences between protein and peptide sources for Ab production as well as which applications/purifications work best for each starting material. To understand the different tools GenScript offers to assist with this decision and why peptide and protein Ag cost differently.
Presented by: Dr. Li Chen GenScript USA Inc.
Expression and purify protein from mammalian cells.
Differences between the regular system and high density system.
Challenging recombinant protein case studies.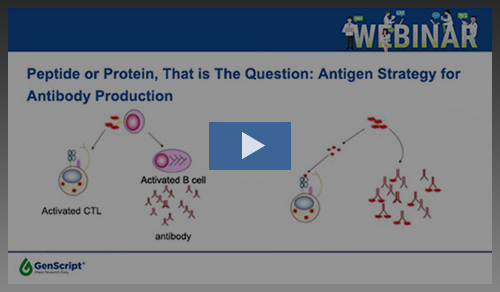 Related Services
Get Quote
Comprehensive service from antigen design to mAb generation
100% flexible mAb generation protocol
In house mAb validation
Get Quote
Rabbit generated mAb's against the most difficult targets including phosphorylated antigens, small molecules, and antigens non-immunogenic in mice
Perfect fit for anti-idiotype or pharmacokinetic studies
Exceptional specificity and sensitivity unparalleled to any other host species
Get Quote
Fast turn around time: antigen design to pAb in as little as 45 days
Can immunize with three peptides simultaneously
Extremely cost effective