Stem Cell Cytokines & Growth Factors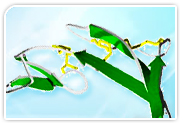 GenScript offers a number of high-quality growth factors and cytokines targeted to stem cell culture needs. These proteins and peptides are extensively tested to ensure high biological activity, high purity, freeze/thaw stability, and structural homogeneity.
Our growth factors and cytokines allow you to achieve biologically relevant and reproducible results in all your stem cell experiments with less protein and with no interference from other proteins or contaminants.
Click here for a specific list of GenScript cytokines
Click here for a specific list of GenScript growth factors
Click here for a specific list of GenScript blocking pepides
Select from our entire list of stem cell cytokines, growth factors, and peptides from the table below
Ordering Information
| Cat. No. | Product Name | Quantity | Price |
| --- | --- | --- | --- |
| Z02022-50 | CD40L/CD154/TRAP, Human - 50 ug | | $159.00 |
| Z02022-10 | CD40L/CD154/TRAP, Human - 10 ug | | $65.00 |
| Z02022-1 | CD40L/CD154/TRAP, Human - 1 mg | | $1049.00 |
| Z00367-50 | IL-1RA, Human - 50 ug | | $269.00 |
| Z00367-10 | IL-1RA, Human - 10 ug | | $85.00 |
| Z00367-1 | IL-1RA, Human - 1 mg | | $1149.00 |
| Z00377-50 | IL-15, Human - 50 ug | | $560.00 |
| Z00377-10 | IL-15, Human - 10 ug | | $159.00 |
| Z00377-1 | IL-15, Human - 1 mg | | $2700.00 |
| Z02196-50 | IL-16, Human - 50 ug | | $475.00 |
| Z02196-10 | IL-16, Human - 10 ug | | $159.00 |
| Z02196-1 | IL-16, Human - 1 mg | | $3600.00 |
| Z00368-50 | IL-2, Human  - 50 ug | | $159.00 |
| Z00368-10 | IL-2, Human  - 10 ug | | $65.00 |
| Z00368-1 | IL-2, Human  - 1 mg | | $640.00 |
| Z00404-50 | TNF-α (mutant), Human - 50 ug | | $235.00 |
| Z00404-1 | TNF-α (mutant), Human - 1 mg | | $1400.00 |
| Z01001-50 | TNF-α, Human - 50 ug | | $95.00 |
| Z01001-10 | TNF-α, Human - 10 ug | | $49.00 |
| Z01001-1 | TNF-α, Human - 1 mg | | $625.00 |
Related Service & Products
Promotion