Product Details
Table 1. Properties of the recombinant Protein A, G and L on Resins
 
Protein A
Protein A
MagBeads MX
Protein G
Protein G
MagBeads MX
Protein A/G
Source
Staphylococcus aureus
Staphylococcus aureus
Streptococcus
Streptococcus
 
Molecular weight
34 kDa
34 kDa
≈22 kDa
≈22 kDa
43 kDa
Numbers of IgG(Ig) binding sites
5
5
3
3
4 of Protein A and 2 of Protein G
IgG Binding capacity
10 mg rabbit IgG per ml settled beads
≧ 30 mg human IgG per ml settled beads
10 mg goat IgG per ml settled beads
≧ 25 mg human IgG per ml settled beads
10 mg goat IgG per ml settled beads
Cat NO.
L00273
L006724
L00274
L006734
L00277
Examples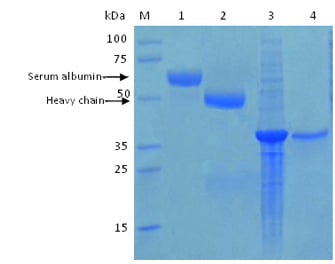 Lane M, Protein Molecular Weight Standard.
Lane 1, Flowthrough of rabbit serum.
Lane 2, Purified rabbit IgG from serum.
Lane 3, Bacterial lysate expressing His-tagged protein.
Lane 4, Immunoprecipitated His-tagged protein, 32 kDa (Anti-His antibody cross-linked to the MagBeads).
Fig.2. Purification of Rabbit IgG from Rabbit serum and Immunoprecipitation of His-Tagged protein from bacterial lysate using GenScript Protein A MagBeads.