Process Scale Antibody Purification
GenScript Monofinity A Resin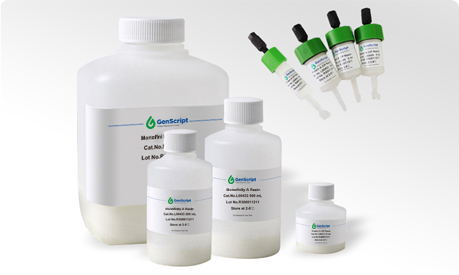 GenScript's Monofinity A Resin™ is made of a novel recombinant protein A ligand that has a high specific binding capacity to the Fc region of immunoglobulin molecules and enhances chemical stability under Cleaning-in-Place (CIP) conditions. Monofinity A Resin™ has several benefits such as high-flow agarose base, low non-specific binding and better dynamic binding capacity than similar products from other major vendors.
Free sample of 1 ml or 5 ml snap column is available upon request via
freesample@genscript.com.
Ordering information
Related Products
Monofinity A Resin™
Protein A affinity chromatography resin is the most commonly applied tool for the isolation and purification of IgG. Protein A is a cell wall component found in several strains of Staphylococcus aureus . It has five high affinity binding sites capable of binding specifically to the Fc region of immunoglobulin molecules from several species. Covalently immobilized Protein A matrices have been extensively used to purify IgG from several species of mammals.
Novel Protein A ligand withstands CIP procedures with 0.1 to 0.5 M NaOH
Easy CIP, reduces the contamination and impurity level
Consistent performance with extremely low ligand leakage
Dynamic binding capacity over 30 mg/ml under experimental condition
Can be used for commercial manufacture of monoclonal antibodies
Significantly reduces overall process costs
Specification
Product Name

Monofinity A Resin

Composition

Highly cross-linked 4% agarose

Average Particle Size

90μm

Ligand

Alkali-tolerant recombinant protein A (E. coli)

Dynamic Binding
Capacity (DBC)

30 mg human lgG/ ml
(4 min RT with sample hIgG concentration at 5 mg/ ml)

Ligand Leakage

<10 ng/ mg

Pressure/Flow Specification

0.3 MPa/ ~1200 cm/ h

Recommended Flow Rate

50 to 300 cm/ h

Chemical Stability

Stable in all commonly used buffers

pH Working Range

3-12

CIP Stability

0.1-0.5M NaOH

Storage

20% Ethanol, 2-8 ℃
Example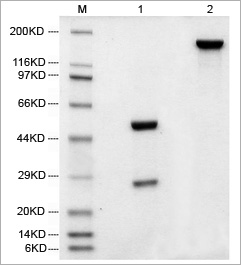 Lane M: Protein Standard
Lane 1: Purified antibody under reducing conditions
Lane 2: Purified antibody under non-reducing conditions

Figure 1. Electrophoresis of humanized IgG purified from cell culture supernatant by Monofinity A Resin
Dynamic Binding Capacity Performance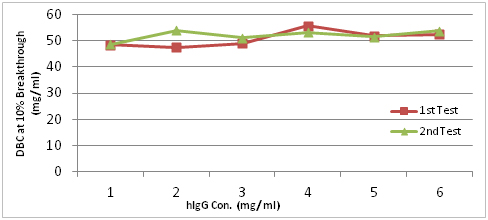 Figure 2. Dynamic binding capacity (DBC) versus sample concentration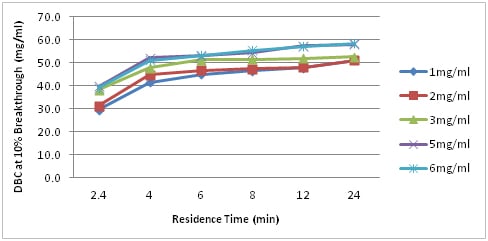 Figure 3. Dynamic binding capacity (DBC) versus residence time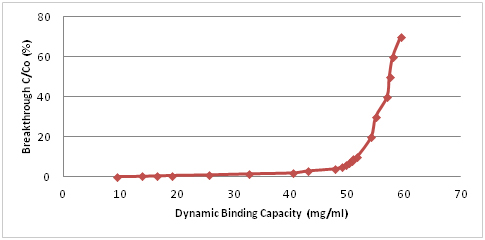 Figure 4. Breakthrough curve with 5mg/ ml hIgG
Protein A Leaching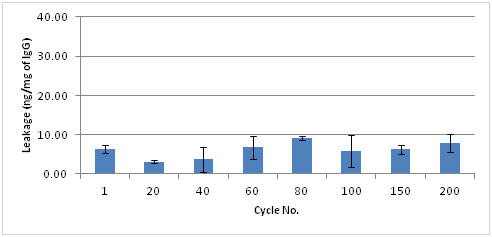 Figure 5. Protein A leakage measured at different cycles of CIP (4 batches)
Stability & Storage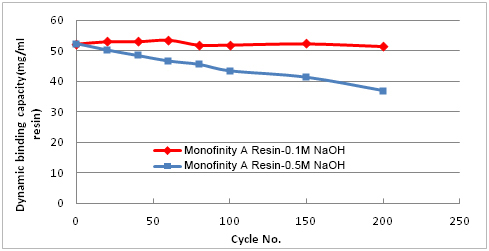 Figure 6. Dynamic binding capacity stability of Monofinity A Resin for 200 cycles of CIP (0.1M-0.5 M NaOH)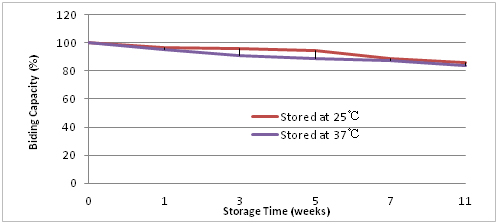 Figure 7. Shelf life of Monofinity A Resin under different storage conditions