Industrial Large-scale Antibody Purification
GenScript's Monofinity A Resin is made of a novel recombinant protein A ligand that has a high specific binding capacity to the Fc region of immunoglobulin molecules and enhances chemical stability under Cleaning-in-Place (CIP) conditions.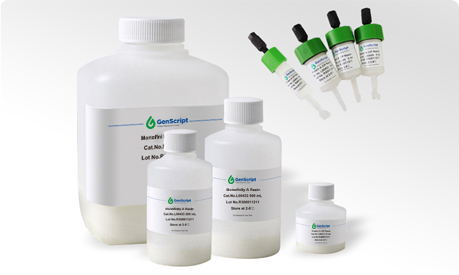 Protein A affinity chromatography resin is the most commonly applied tool for the isolation and purification of IgG. Protein A is a cell wall component found in several strains of Staphylococcus aureus . It has five high affinity binding sites capable of binding specifically to the Fc region of immunoglobulin molecules from several species. Covalently immobilized Protein A matrices have been extensively used to purify IgG from several species of mammals.
Novel Protein A ligand withstands CIP procedures with 0.1 to 0.5 M NaOH.
Easy CIP, reduces the contamination and impurity level.
Consistent performance with extremely low ligand leakage.
Dynamic binding capacity over 30 mg/ml under experimental condition.
Can be used for commercial manufacture of monoclonal antibodies.
Significantly reduces overall process costs.
Free sample of 1 ml or 5 ml snap column is available upon request via freesample@genscript.com.
Ordering information
Related Products
In the biopharmaceutical industry, in order to ensure high quality of products, it is often necessary to carry out clean-in-place (CIP) of chromatography systems. While the column efficiency and transfer rate of the column are also reduced due to the irreversible precipitation of denatured proteins, lipids, and DNA molecules in the sample.
0.1-1 N NaOH can effectively solve the above problems. In addition to sterilizing and inactivating viruses, it can also dissolve denatured proteins, lipids, and DNA molecules deposited on the top of the column, to extend the service life chromatography media. However, natural or recombinant protein A ligands are not tolerant to NaOH, easily getting denatured or shed.
Alkaline-tolerant Protein A Affinity Chromatography Media (Monofinity A Resin, Cat. No. L00433) is alkali-resistant Protein A affinity purification media developed by Genscript to meet the market needs. The product is made of specially engineered alkali-resistant Protein A ligand cross-linked to a novel agarose gel matrix. It has high dynamic binding capacity and low level of ligand shedding, which is suitable for purification of industrial-grade monoclonal antibodies and therapeutic Fc-Fusion proteins.
Specification
Product Name

Monofinity A Resin

Composition

Highly cross-linked 4% agarose

Average Particle Size

90 μm

Ligand

Alkali-tolerant recombinant protein A (E. coli)

Dynamic Binding
Capacity (DBC)

30 mg human lgG/ ml
(4 min RT with sample hIgG concentration at 5 mg/ ml)

Ligand Leakage

<10 ng/ mg

Pressure/Flow Specification

0.3 MPa/ ~1200 cm/ h

Recommended Flow Rate

50 to 300 cm/ h

Chemical Stability

Stable in all commonly used buffers

pH Working Range

3-12

CIP Stability

0.1-0.5 M NaOH

Storage

20% Ethanol, 2-8℃
Example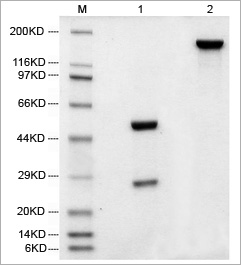 Lane M: Protein Standard
Lane 1: Purified antibody under reducing conditions
Lane 2: Purified antibody under non-reducing conditions

Figure 1. Electrophoresis of humanized IgG purified from cell culture supernatant by Monofinity A Resin
Dynamic Binding Capacity Performance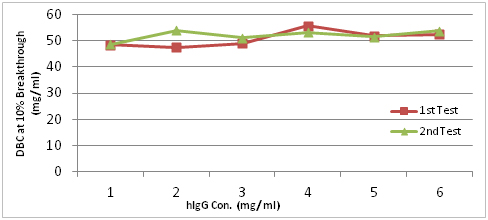 Figure 2. Dynamic binding capacity (DBC) versus sample concentration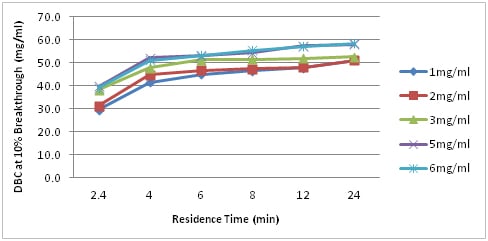 Figure 3. Dynamic binding capacity (DBC) versus residence time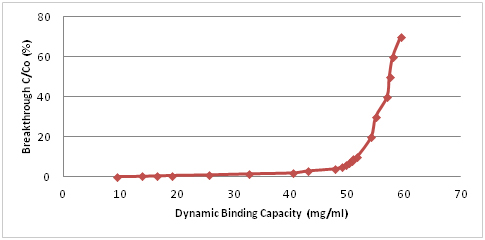 Figure 4. Breakthrough curve with 5mg/ ml hIgG
Protein A Leaching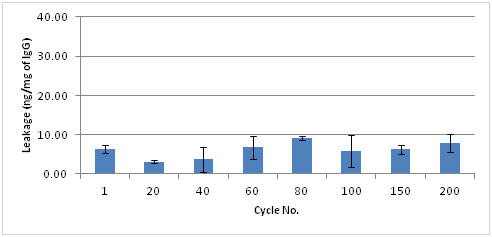 Figure 5. Protein A leakage measured at different cycles of CIP (4 batches)
Stability & Storage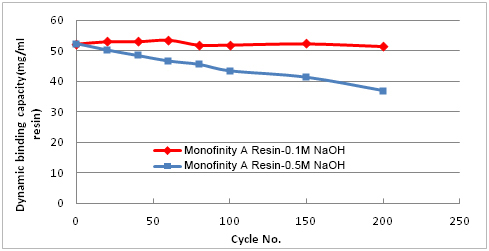 Figure 6. Dynamic binding capacity stability of Monofinity A Resin for 200 cycles of CIP (0.1M-0.5 M NaOH)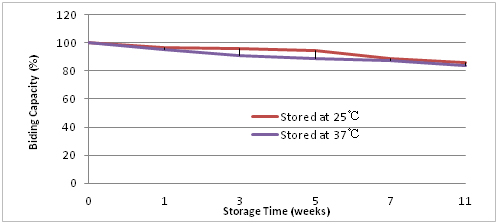 Figure 7. Shelf life of Monofinity A Resin under different storage conditions