Endotoxin Removal System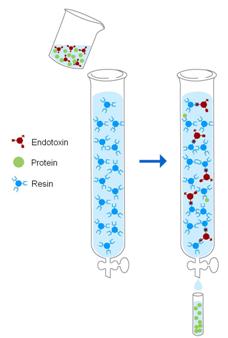 Endotoxin, also known as Lipopolysaccharide (LPS), is a cell membrane component of Gram-negative bacteria. A single E. coli cell contains about 2 million LPS molecules, which are released into the lysate during cell lysis. Endotoxins can initiate a strong immune response in mammalian hosts, resulting in systemic inflammatory response syndrome (SIRS) and/or sepsis. Endotoxins are often difficult to remove from solution due to the high variability of their molecular weights. In addition, endotoxins are relatively stable and insensitive to changes in temperature and pH.

Ligands with affinity to endotoxins can be coupled to an anion exchange system to increase the endotoxin binding strength. ToxinEraser Endotoxin Removal System is based on an affinity matrix of modified polymyxin B (PMB), which allows for efficient endotoxin removal from samples such as proteins, peptides, and antibodies. The final endotoxin level can be decreased to as low as 0.1 EU/ml * with repeated use of ToxinEraser Endotoxin Removal Resin.

*Final removal efficiency may vary depending on the sample type/source.
Key Features
High binding capacity at least 2, 000, 000 EU/ml (CV)
High Recovery Yield: >90% with minimized sample loss
High stability and high removal efficiency
Ordering Information
Related Products