eGFP mRNA expresses an enhanced green fluorescent protein, with the open reading frame sequence from the jellyfish, Aequorea victoria. EGFP mRNA is a commonly used fluorescence reporter sequence in mRNA therapeutics and delivery system development projects. The expressed protein has Ex/Em wavelengths of 488nm and 507nm.
This mRNA is capped with Cap1 structure for enhanced translation, and designed with a 100A tail to mimic mature mRNA. The sequence is 100% substituted with N1-methyl-pseudouridine or 5-Methoxyuridine for reduced immunogenicity and toxicity.
View full product specifications
EGFP mRNA
Modifications
N1-Methylpseudouridine (M1Ψ)
5-Methoxyuridine (5-MOU)
Get A Quote
Cell Expression Results
Brief method: transfect 0.2ug of mRNA using 0.5uL of lipofectamine2000 (or equivalent) for one well of cells in a 96 well plate following manufacture's instruction. Test the result after 16 to 24 hours using a plate reader, or flow cytometry, or fluorescent microscope, or confocal microscope. Suggest using excitation wavelength at 485nm, emission wavelength at 535nm for equipment setting.

A. Expression of eGFP mRNA in A549 cells. Confocal microscopy revealed that efficient expression of eGFP mRNA in A549 cells after transfection with lipofectamine 2000. Green-eGFP protein, Blue-Nuclei. B. Capping efficiency test of eGFP mRNA by LC-MS. Capped eGFP mRNA fragment has a M/Z of 8473, uncapped mRNA fragment has a M/Z of 8116. The capped fragment ratio is 99.5%.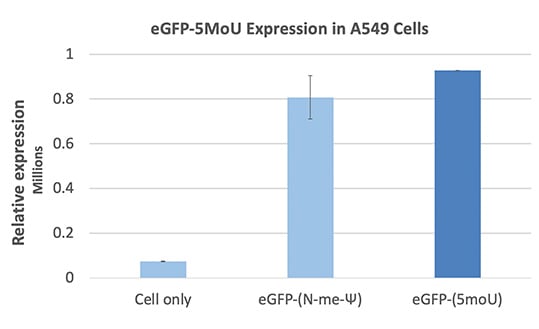 Expression of eGFP mRNA in A549 cells. The eGFP expression was measured 24 hours after transfection of mRNA by lipofectamine by plate reader. N1-methyl-pseudoU modified EGFP mRNA was utilized as a control.