As the coronavirus (COVID-19) pandemic continues to evolve globally, many of us have been inevitably impacted in our daily life. At this unprecedented moment, filled with challenges and uncertainty, GenScript is firmly committed to serving our clients, the research and healthcare community, and anyone in need of us, to the best of our abilities.
Using GenScript's exclusive High Density HD-293 mammalian expression system, we are able to produce gram level proteins, that are proven to work with clinical sample in ELISA assay!
Functional 2019-nCoV Spike protein (RBD) for COVID-19 Research
Name
Application
Purity
QC
S protein (RBD) His
IgM/IgG kit with Anti-His antibody
>90%
SDS-PAGE, WB, ELISA binding against ACE-2
S protein (RBD) mFc
IgM/IgG kit with Anti-Mouse antibody
Gram level, ready-to-ship RBD proteins are available, talk to your account manager!
SDS-PAGE & Western blot Analysis: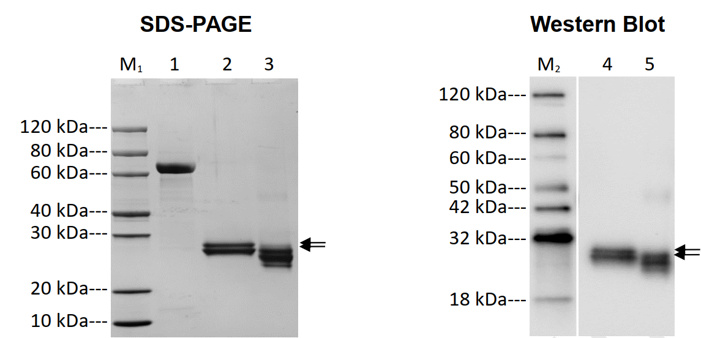 Fig.1 SDS-PAGE and Western blot analysis of RBD Protein (His tag)
Lane M1: Protein Marker, GenScript, Cat. No. M00516
Lane M2: Protein Marker, GenScript, Cat. No. M00521
Lane 1: BSA (2.00 μg)
Lane 2: RBD Protein (Reducing condition, 2.00 μg)
Lane 3: RBD Protein (Non-reducing condition, 2.00 μg)
Lane 4: RBD Protein (Reducing condition)
Lane 5: RBD Protein (Non-reducing condition)
Primary antibody: Mouse-anti-His mAb (GenScript, Cat.No. A00186)
Purity >90%
ELISA Results Binding against ACE2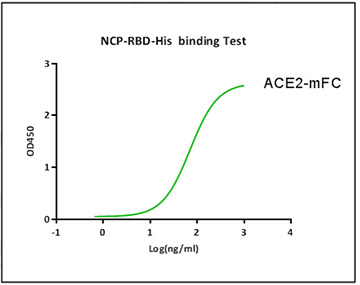 SDS-PAGE & Western blot Analysis: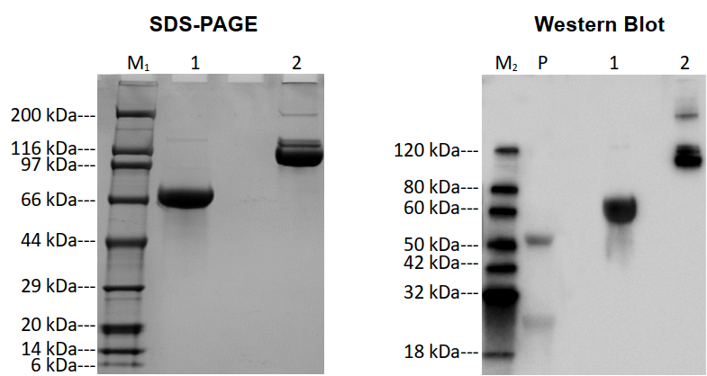 Fig.1 SDS-PAGE and Western blot analysis of S-RBD (mFc-tag)
Lane M1: Protein Marker, TaKaRa, Cat. No. 3452
Lane M2: Protein Marker, GenScript, Cat. No. M00521
Lane 1: Reducing condition
Lane 2: Non-reducing condition
Lane P: Mouse IgG1, Kappa (Sigma, Cat.No.M9269) as a positive control
Primary antibody: MonoRab™ Mouse IgG (76F10), mAb, Rabbit (GenScript, Cat.No. Cat. V90301)
Purity >90%
ELISA Results Binding against ACE2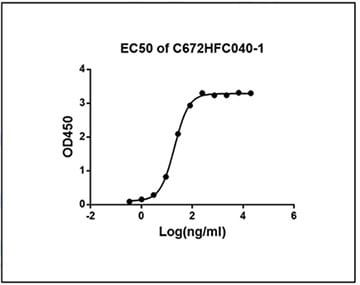 Assay cell line overexpression ACE2
SC1394: ACE2
overexpression cell line
Cell types
Deliverables
TAT
Both cell pools and
single clones options are available
HEK293T
2 vials, 1x10^6Cells/vial
3-4 weeks
A549
CHOK1
NIH-3T3
Case Studies
Anti-Flag antibody to detect ACE2-Flag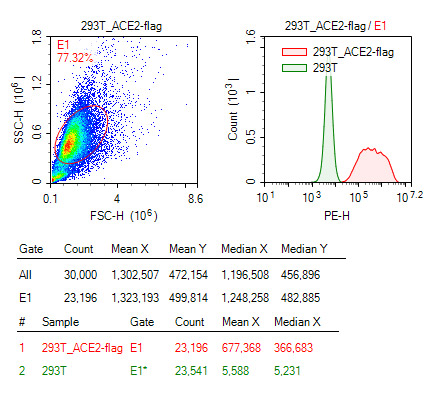 S protein to detect ACE2-Flag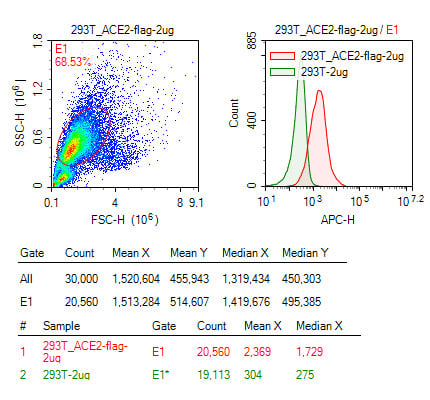 Anti-Flag antibody to detect ACE2-Flag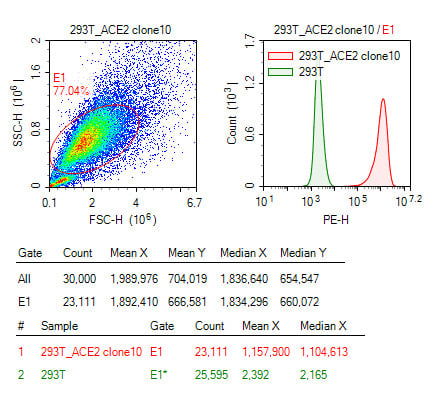 S protein to detect ACE2-Flag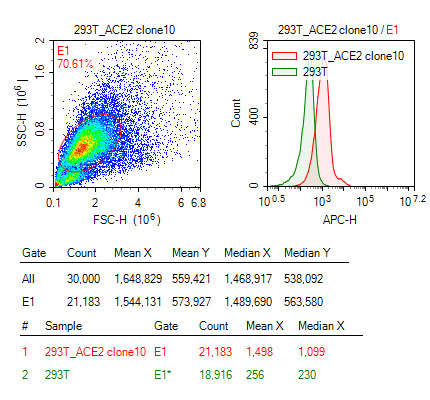 Anti-Flag antibody to detect ACE2-Flag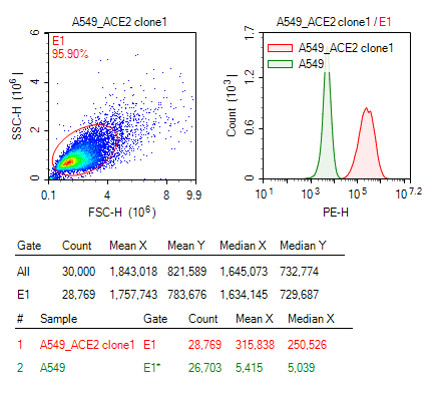 S protein to detect ACE2-Flag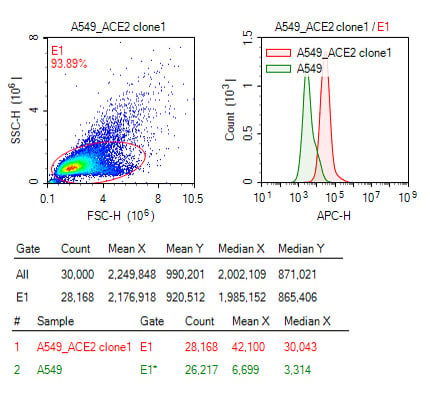 Quotations and Ordering