Powered by our proprietary arrayed, semiconductor-based, high-quality, oligonucleotide synthesis platform, GenScript offers fully customized gRNA libraries, with complete coverage and uniform distribution, for CRISPR knockout, CRISPRa, and CRISPRi.
Advantages:
Top-notch library converge: >99% coverage with NGS validation
Cloned into Dual or All-In-One CRISPR vectors licensed from Feng Zhang's lab, or any customized vectors

Delivered in virus packaging-ready plasmid format, with flexible quantities (from µg to mg level)

No sequence restriction

Deliver in in as short as 7 weeks

Workflow for constructing gRNA libraries using arrayed, semiconductor-based oligonucleotides. gRNAs are precisely synthesized using our advanced semiconductor technology as single-stranded oligonucleotides. Following PCR amplification, double-stranded gRNAs are cloned into vector of choice to create a screening library. Typically, a lentiviral vector optimized to produce high-titer virus is used for efficient transduction.
Case Study: 100% coverage and even distribution of gRNAs determined by NGS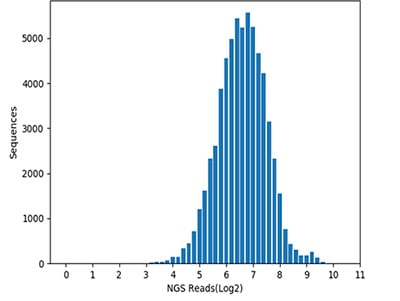 | | |
| --- | --- |
| Rank 10% | 44 |
| Rank 90% | 206 |
| Skew (90%/10%) | 4.68 |
| Average Depth | 117 |
| MaxDepth | 1068 |
| Total Oligo | 62804 |
| Sequenced Oligo | 62804 |
A gRNA library consisting of 62,804 diverse gRNAs were constructed in this case, and NGS analysis indicated 100% coverage of the gRNA library. In addition, a 90/10 ratio less than 5 illustrated the equal distribution of desired gRNAs within the library, ensuring maximum screening efficiency and identification of a hit.