Faster Delivery Than Ever! Upgrade
- Receive Custom Peptide in 2-3 Weeks From Just 5 Days!
- Enjoy the New Upgraded Service for Free!
Custom Peptide Synthesis Services

Take control of your research with reliable peptides from GenScript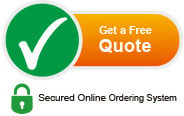 Have reproducibility or purity concerns? Powered by our proprietary PepPower™ peptide synthesis technology and automated synthesizers, we are able to synthesize high quality peptides in a much shorter time! At GenScript, we value your time and success. Obtain consistent results with reliable GenScript peptides! Now, with our express peptide delivery, you can receive custom peptides faster than ever!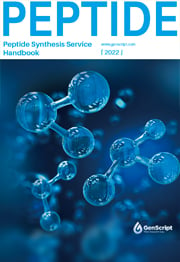 Peptide Handbook – A Guide to Peptide Design and Applications.
DOWNLOAD NOW!
NEVER MISS A
DEADLINE AGAIN

Fastest delivery speed in the industry - As fast as 5 days!

PepPower integrates microwave technology to increase chemical coupling efficiency and reduce synthesis reaction time by 75% on average, resulting in faster production times.

GenScript's rush peptide synthesis service offers express peptide delivery in as short as 5 days.

SUPERIOR REPRODUCIBILITY & PRECISION

Batch-to-batch reproducibility
for consistent results

Our fully-automated systems minimalize the possibility for human error, allowing for excellent batch-to-batch reproducibility.

To ensure peptide quality, GenScript measures four environmental factors, including water, counter ions, pH, and net peptide content

With over 15 years of experience, GenScript peptide services has resulted in 1400+ peer reviewed publications from over 10,000 scientists worldwide.

HIGH-FIDELITY
SAFEGUARDS

Comprehensive quality assurance
for each peptide

Our peptides are triple-checked at each stage of the purification process by both ESI-MS and RP-HPLC for maximum peptide integrity.

Protect every peptide from oxidation and deliquescence during delivery with our sealed, argon gas-filled vials.
FREE upgrade to rush delivery – as fast as 5 days!
FREE solubility testing for a limited time!

* Delivery times are for standard sequences. Difficult sequences, or sequences with multiple modifications, may require additional time.
PepPower™ Peptide Synthesis Technology
GenScript's proprietary PepPower peptide synthesis technology platform integrates automated peptide synthesizers, state-of-the-art microwave technology, and ligation technics. PepPower platform allows us to flexibly choose in between Liquid Phase Peptide Synthesis (LPPS) or Large-Scale Solid Phase Peptide Synthesis (SPPS) base on your requests. With the assistance of microwave technology, we are capable of increasing chemical coupling efficiency and reducing synthesis time by 75% on average. In addition, our proprietary ligation technology allows for the synthesis of peptides up to 200 amino acids with high efficiency and accuracy. With PepPower platform, we are able to synthesize reliable peptides faster and help you obtain consistent results sooner.
Peptide Applications
Epitope mapping
Monoclonal and polyclonal antibody production
Identification/synthesis of posttranslational modifications
Enzyme specificity and enzymatic mechanisms
Biological effects of defined peptides
Blocking and competition assays of proteases
Non-quantitative enzyme-substrate studies
Structure, dynamics, and folding of peptides and proteins via NMR
New techniques for separation by chromatography/electrophoresis
Antibody-antigen interactions
Immunization and quantitative receptor-ligand interactions
ELISA standards for measuring titers of antibodies
Non-quantitative peptide blocking studies
Deliverables
Your peptides will arrive as lyophilized powder aliquoted into # of vials requested, along with the following features:
Our ISO 9001:2008 certified, Total Quality Management (TQM) platform ensures that each custom peptide is triple checked via both electrospray ionization mass spectrometry (ESI-MS) and reversed-phase high performance liquid chromatography (RP-HPLC) analyses at each stage of the purification process for maximum peptide fidelity.

We package all peptides in sealed, argon gas-filled vials to prevent any oxidation and deliquescence during delivery.

Flexible Aliquoting Options

We provide aliquoting services (free for the first 5 vials and as little as 0.2 mg/vial ) for all peptide orders, which help prevent unnecessary freeze-thaw cycles, water absorption and loss of reagent from self allocating.

Certificate of Analysis

The appearance, quantity, molecular weight, and purity of each peptide will be analyzed and included in the certificate of analysis report. All reports can be downloaded by visiting My Account page.
Premium Services
Select our AccuPep+ QC services that can help you assess peptide sample consistency and obtain reproducible results.
Performing experiments with hydrophobic peptides can be extremely frustrating if you are unsure of how to properly dissolve your peptide. In addition, determining the optimal conditions for dissolution can consume up to 5 mg of your peptide stock. Our solubility testing service will help you conserve time, money, and peptide stock, by providing the optimal peptide dissolution condition that suits your assay requirements.
More about Solubility Testing for Peptides
Our peptide synthesis experts perform a systematic dissolution of your peptide in various buffers at varying pH to determine the conditions under which the highest concentration of dissolved peptide can be obtained.
Your peptide sequence's characteristics are evaluated, and a customized solubility testing approach is designed.
Your peptide is dissolved systematically in lab solvents that are most likely to yield the highest gross peptide concentration.
You will received a customized solubility test report containing the concentration of your peptide in each of the tested solvents.
You can view your solubility test results any time by logging into your Account page.
Trifluoroacetic acid (TFA) is a strong acid commonly used to cleave synthesized peptides from solid-phase resins and improve HPLC performance during peptide purification. Most custom peptides are delivered as lyophilized TFA salts, containing as much as 10-45% TFA. Residual TFA in peptide samples can cause cytotoxicity in cell culture assays, therefore TFA removal service is recommended for peptides that will be used in cellular assays. We provide both standard and guaranteed (TFA < 1%) TFA removal service to meet your specific research needs. 
More about TFA Removal for Peptides
TFA Removal Service removes the residual TFA and replaces it with your choice of acetate or hydrochloride, both of which are more amenable for cell-based assays. Additional QC reports are provided for peptides for which this service is performed.
Deliverables:
Peptide having desired purity and quantity, and having < 1% TFA (exchange by HCl, formate or acetate)
TFA content test report
The delivery time is typically 2 weeks in addition to peptide synthesis time depending on peptide sequence.
Custom peptides are delivered as a gross peptide consisting of a mixture of the target peptide, peptidic impurities, counter ions, and water. Request peptide content analysis to determine the precise amount of target peptide in the gross peptide preparation and increase your experimental accuracy.
More about Peptide Content Analysis
Peptide content analysis involves quantification of the elemental nitrogen in the gross peptide preparation, which is used to calculate the amount of target peptide in the preparation via molar ratios.
Depending on the hygroscopic nature of peptides, peptide samples contain varying amount of water even after lyophilization. Water percentage contributes to gross peptide weight and may vary from batch to batch. Request this test to ensure precise dilution of your peptide samples and limit batch to batch variability for the same peptide. 
More about Moisture Content Analysis
For the moisture content analysis, the water content is determined by the Karl Fischer Titration method.
Endotoxins (lipopolysaccharides), the major components of gram-negative bacteria cell wall, can be introduced into peptide samples during peptide synthesis. Even at low concentrations, endotoxins can decrease cell viability and induce immune response in cellular assays. Request this analysis when using peptides in cells that could be sensitive to endotoxins or prone to immune response.
More about Endotoxin Analysis
The endotoxin analysis utilizes the reproducible clotting of Tachypleusamebocyte lysate or Limulus amebocyte lysate in the presence of endotoxins allow for endotoxin detection as low as 0.001 EU/mL.
Request amino acid analysis to determine the amino acid composition in the peptide or determine the precise amount of the net peptide to ensure experimental accuracy and reproducibility.
More about Amino Acid Analysis
For this analysis, peptide is hydrolyzed under acid conditions into free, individual amino acid residues. Following derivation, reversed-phase liquid chromatography is used to separate the amino acid derivatives, followed by UV-detection and quantification.
Peptides preparations consist of not only the target peptide, but also other impurities, including peptidic impurities, counter-ion, and water. Request this test to characterize the impurities in your peptide sample to ensure experimental consistency.
For peptides containing fluorescence adsorptions groups (e.g. FITC, AMC, FAM, DABCYL, TMR, etc.), HPLC-UV-fluorescence detection will provide more sensitive and specific signals to help accurately assess the purity and concentration of your peptides.
Acids (e.g. TFA) used during peptide synthesis can form salts with amino groups on side chains or the amino terminus of your peptide, leading to acidity. Low pH can interfere with assay results. Request this test to ensure that your peptide preparation has your desired pH value.
More about pH Test
For pH test, peptide is dissolved in water (additional solvents may be added in case of hydrophobic custom peptides) and a pH meter is used to determine the pH value of the peptide.
Peptide Resources:
Representative Case Studies:
Fast delivery: Express peptides
Long peptides
Difficult peptides: Hydrophobic peptides, etc.
Modified peptides: Multi-phosphorylated peptides, Multi-disulfide bridge peptides, etc.
Other challenging peptides
Online Tools:
Performance You Can Trust- Proven Track Record of Success
Customer Citations
Since 2002, GenScript's Peptide Synthesis Services have helped thousands of scientists publish their research in high impact peer-reviewed journals like Science, Nature, Cell, and PNAS.
- 1400+ peer-reviewed publications
- 10,000+ scientists
- 150,000+ peptides
Customer Testimonials
GenScript peptide synthesis gives us amazingly fast turnaround time and very competitive prices. Their peptide quality has been excellent. Our experience with them has been so positive that we have essentially shut down our internal peptide synthesis efforts and now use them for all of our custom peptides.

Robert Bao, Principal Investigator, PACT Pharma Inc., USA
"I have ordered thousands of peptides with different length at GenScript, including modified forms. Both high quality and competitive price of each make GenScript our first choice."

Dr. Guo Luo, Postdoctoral Research Fellow, Stanford University School of Medicine, USA
"I have been using the peptides from your company since 2004. The high quality standard and competitive price of your company will keep us hooked, hopefully for the years to come."

Dr. Miguel Morales, Universidad de Barcelona, Spain
"Although I order infrequently I do appreciate the customer service, approx 2-week turnaround time, and rapid delivery to my location. Price is average or slightly lower than average. I have had opportunities to order from other companies at discounts but do not due to concerns about quality. I can depend on GenScript quality."

Dr. Steven Applequist, Karolinska University Hospital, Sweden
Quotations and Ordering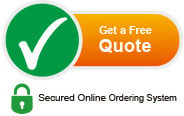 For batch order, please download and complete Peptide Batch Order Form and email it to peptide@genscript.com.
We accept POs and major credit cards (). A 7% New Jersey sales tax will be applied to orders shipped to New Jersey. Your credit card will be billed under "GenScript" Click here to download our credit reference form.
For international orders, we must apply the full charge at the time the order is placed. In the unlikely event that any given order cannot be filled, our guarantee will take the form of a full refund.