Interested in exploring non-viral CAR-T engineering approach? We are making it easier than ever!
GenScript now offers TRAC_EGFP and Rab11a_GFP knock-in optimization kits to help effectively optimize your CAR insertion process with pre-validated sequence, design, and protocol.
By choosing this predesigned kit, you are saving 75% compared to ordering customized synthesis service!
Have a specific design in mind? Check out our customized CRISPR services.
CRISPR CAR-T Knock-In Optimization Kit Includes:
Synthetic SafeEdit sgRNA (HPLC purified) targeting either human TRAC or Rab11a gene
High purity Cas9 proteins, offer both enhanced specificity version (eSpCas9)1 and wild type version
HDR templates in GenExact™ ssDNA and GenWand™ closed-end dsDNA format, encoding GFP for easy knock-in detection, with or without Cas9 Targeting Sequence (CTS) design
Beyond typical HDR donor DNA design, we also offer Cas9 Targeting Sequence (CTS) added ssDNA and dsDNA design for improved gene knock-in efficiency. CTS allows for the co-delivery of donor DNA and sgRNA/Cas9 complex into the nucleus target gene site, therefore increasing HDR rate. In our collaboration with Dr. Marson at Gladstone and UCSF2, GenExact™ ssDNA with CTS design (delivered via electroporation) consistently outperformed in-house generated HDR templates, showing lower levels of toxicity and knock-in efficiency of 46.2% at a GMP-compatible scale. More info for CTS design can be found in this paper.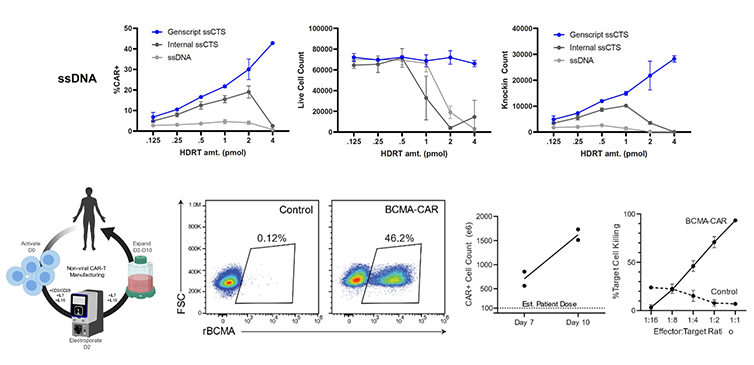 Brian R Shy. et.al., bioRxiv(2021), Read the whole article.
Find Your Kit!
Choose your desired gene target:
TRAC – Mostly commonly used site for new CAR insertion in T cells, our sgRNA is designed to target the first exon on the TRAC locus
Rab11a – Housekeeping gene for more general insertion optimization
Other Gene Target – Check out our customized sgRNA and ssDNA/dsDNA Services
Which Cas9 species would you be using?
Wild type Cas9 protein – The research standard for gene editing with one N-terminal nuclear localization signal (NLS).
Enhanced specificity SpCas9 (eSpCas9)-2NLS protein – SpCas9 (K848A/K1003A/R1060A) is structurally engineered with double-ended nuclear localization signals (NLSs) for improved target specificity by Feng Zhang Laboratory at the Broad Institute1. eSpCas9 is able to reduce off-target effects by over 10-fold, while maintaining robust on-target genome editing efficiency.
Select your donor template format:
GenExact™ ssDNA and GenWand™ dsDNA

GenExact™ ssDNA only

GenWand™ dsDNA only
Do you want to test Cas9 Targeting Sequence (CTS)2 for improved knock-in efficiency in your design?
Yes – Selecting this will add donor templates with CTS design to your test kits, as well as corresponding oligo for the CTS annealing
No
Note: Based on our optimized protocol, material in each item labeled for 12 RXN should be enough to cover 12 reactions using Lonza 4D system or 25 reactions using Neon System. Please check your electroporation protocol and ensure enough quantity is added for each item.
KIOK13 TRAC CTS Annealing Oligo is needed for working with KIOK6 ssDNA_TRAC_EGFP_CTS.
KIOK14 RAB11A CTS Annealing Oligo for working with KIOK10 ssDNA_RAB11A_GFP_CTS.
Add other items to your cart:
1.Slaymaker, et al. Rationally engineered Cas9 nucleases with improved specificity. Science 351, 84–88 (2016).
2.Shy, et al. Hybrid ssDNA repair templates enable high yield genome engineering in primary cells for disease modeling and cell therapy manufacturing. bioRxiv 2021.09.02.458799.
Download our protocols to guide you through your optimization process!
Case Study
Long hybrid ssDNA HDR templates enable high yield non-viral cell therapy manufacturing - In collaboration with the Marson lab at the Gladstone-UCSF Institute of Genomic Immunology
Customized Services
Want to know more about our CRISPR services?
Fill in this form and our team will reach out to you