Standard Service List-Antibody Purification Services Offered
Antigen Affinity Purification (up to 100 ml)
Protein A/G Affinity Purification (up to 100 ml of sera or ascites
Separately antiserum purification (Rabbit)
Specific Purification Information
The optimal purification method is dictated by the species, the source material, and the level of immunoglobulin purity required. The amount of supernatant or serum required per column depends on the concentration and total milligrams of antibody in the solution.
Antigen affinity
If a high purity of antibody is required, a target-specific peptide or recombinant protein affinity column can be used to obtain extremely pure antibodies. A minimum of 10 mg of pure antigen (or purified peptide) is required for the generation of custom resins to capture the target protein. Due to the highly specific purification process, the resulting antibody preparationtends to have lower background levels and lower non-specific binding rates than other purification methods.
Protein A and Protein G
Protein A and Protein G are the most common choices for antibody purification due to their ability to bind the constant (Fc) region of IgG from various species. Most intact IgG antibodies can be purified efficiently by Protein A or Protein G, but their affinity differs by species and subclass of IgG.
Aseptic/Low Endotoxin Purification
Purification is conducted under aseptic conditions in a dedicated, limited-access facility to generate clean, low-endotoxin antibody preparations.
Ammonium sulfate precipitation
Ammonium sulfate is widely used in isolating both IgY and IgG from a variety of species. An antigen affinity purification step can be employed to further purify the immunoglobulin of interest.
IgM purification
Mouse IgM is purified from ascites or culture supernatants by an IgM affinity matrix column.
Ion Exchange
This column can be employed to purify antibodies preceded by ammonium sulfate fractionation or followed by affinity chromatography. The ion exchange method is particularly useful for isolating antibodies that have weak binding affinity to Protein A, or removing traces of DNA contamination.
Additional service: Agarose Bead Conjugation
Our agarose bead conjugation services offer agarose bead conjugations to antibody molecules for applications like antibody affinity purification and immuno-precipitation.
Get in Touch
with GenScript Custom
Antibody Services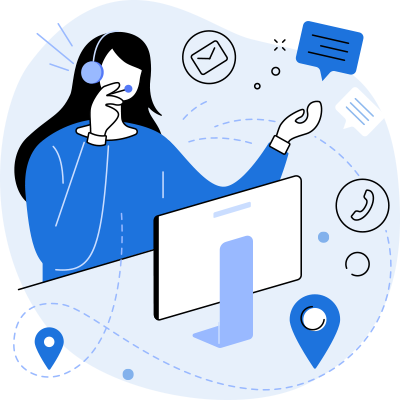 Quotation and Ordering
Our customer service representatives are available 24 hours Monday through Friday. You may contact us anytime for assistance. Orders can be placed online, over the phone, by email or fax. Please have your payment information (credit card, purchase order or bank information) ready.
A Technical Account Manager will reply you within 24 hours to finalize the quote
To place order, provide credit card/PO information
Production of your project begins immediately
A Project Manager is in contact with you during the production process to give updates