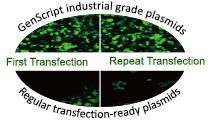 Industrial Grade Plasmid
100% accuracy and industry-leading quality delivered
on your schedule
Plasmid DNA Preparation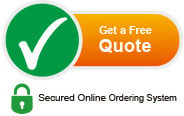 Are uncontrolled or unexplained failures in your plasmid prep causing reproducibility issues and delays on your experiments?
GenScript's Industrial Grade Plasmid DNA can help your experiments achieve highly efficient cell transfection, helping to improve experimental outcomes in research areas such as: DNA vaccine development, antibody production, and other preclinical research projects.
Upgrade your experiments with GenScript's Plasmid Prep Services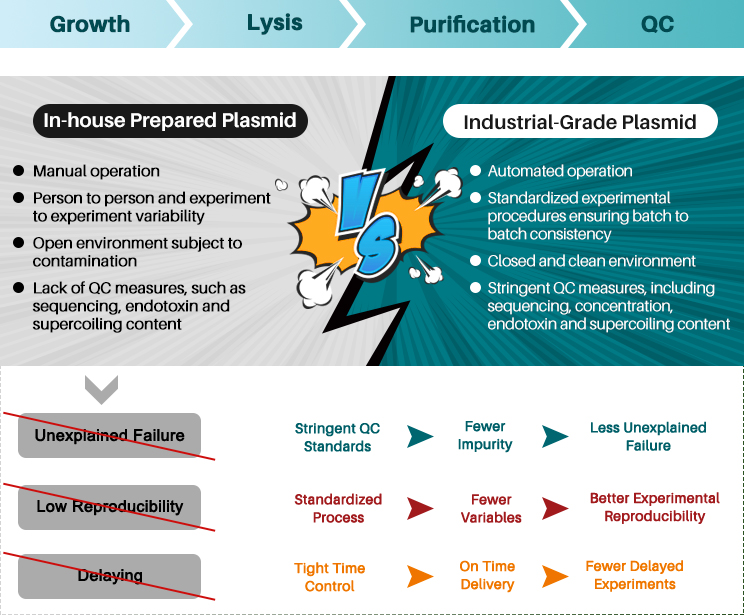 Quality Control
GenScript's plasmid DNA preparation services offer the most stringent quality control standards on the market, and services can be customized to your quality and quantity needs. Preps are offered at up to ≥ 90% supercoil and ≤ 0.01 EU/µg endotoxin levels.
| QC items | Specification | Analytical Method |
| --- | --- | --- |
| Appearance | Clear, no visible particles | Visual inspection |
| A260/280 | 1.8-2.0 | Nanodrop UV absorption |
| Concentration | On request, default 1 mg/ml | UV absorption |
| Supercoil content | For information only | Densitometry upon agarose gel electrophoresis |
| Residue RNA | Not visible | Visual inspection upon electrophoresis |
| Genomic DNA | Not visible | Visual inspection upon electrophoresis |
| Restriction Analysis | Conforms to reference | Enzyme digestion and electrophoresis |
| Endotoxin assay | Based on grade | LAL assay |
| Bioburden assay | No growth on agar plate after 48 hours | Bioburden |
* Sterile filtering and animal-free processing is available at an additional charge; click here to request a quote.
For more information about our QC measures, click here.
Research Grade
Industrial Grade
HT Plasmid Prep
Animal-free cultivation media
Included
Included
Included
Advanced animal-free prep1
Optional
Optional
Optional
Supercoiling
Predominantly supercoiled
≥ 90% supercoiled2
≥ 90% supercoiled2
Endotoxin levelWhat's this?
-
≤ 0.01 EU/µg3
Endotoxin-level free (≤ 0.1 EU/µg)
Bioburden assay analysis
Optional
Included
Optional
Sterile filtering
Optional
Optional
Optional
Deliverables
µg to g amounts of plasmid according to your specifications
10 µg or 30 µg
Turnaround time
Starting at 3 business days*
QC Items
Appearance
✔
✔
✔
A260/280
✔
✔
✔
Residual RNA
✔
✔
✔
Genomic DNA
✔
✔
✔
Concentrations
✔
✔
✔
Restriction Analysis
✔
✔
✔
Endotoxin Assay (LAL test)
-
✔
-

* For Express + HT Plasmid Prep orders
1 Both Research and Industrial Grade preps are prepared using cultivation media without any animal-derived components. For clinical applications and animal studies, the advanced animal-free prep can be included for additional control over potential safety risks. See our FAQ for more details.
2 Our standard supercoiled content is measured analytically by densitometry, of which the data obtained is for information only.
3 We can provide more stringent QC if desired. Please indicate your prep requirements on the quote form or contact us for more information.
Common applications for plasmid DNA preparation
Plasmid DNA prep is a useful tool for many downstream applications
Research Grade

Molecular cloning
Mutagenesis
Southern blot
Library construction
Transformation (for E.coli, bacillus, mold, yeast)
Protein manufacturing (for E. coli and yeast)

Industrial Grade

Transfection and co-transfection (for mammalian cells)
Virus packaging
Protein manufacturing (for mammalian cells)
Antibody production
Gene vaccine and gene therapy studies
Animal studies
Frequently Asked Questions
Q: What is "animal-free cultivation media"? What is the advanced animal-free prep process and when would I need it?
A: For our research and Industrial Grade plasmid prep services, we are using cultivation media without any animal-derived components, making the media "animal-free."
Unlike traditional plasmid prep that uses bovine pancreatic RNase, our animal-free prep process uses a recombinant RNase which is guaranteed bovine-free. The advanced animal-free prep process is critical for clinical applications and animal studies to avoid safety risks.
Q: Why measure the supercoiled percent?
A: Multiple studies have shown that highly supercoiled plasmids have many applications for both in vivo and in vitro work. For example, supercoiling can strongly influence transfection efficiency, and can have several sides effects for DNA therapy. In addition, the supercoil percent has been determined as a predictor of plasmid performance and is recognized by many regulatory groups.
Q: How do endotoxins affect my research goals?
A: Endotoxins can have many adverse downstream effects on your research projects, ranging from decreased transformation efficiencies to adverse side-effects in animal studies. To learn more about endotoxins and other QC details, click here.
Customer Testimonial
"We used GenScript's plasmid preparation service to prepare large quantities of plasmids that contain our Southern blot probe fragments. This saved our lab considerable time and expense. From the initial order to service delivery, GenScript provided our lab with timely follow-ups and valuable advice. We now have an adequate supply of these probes with no need to grow bacterial cultures every time a new probe is required. Thank you, GenScript!"

― Dr. Melissa A. Melan, University of Pittsburgh Medical Center, USA
Selected Publications
Glenn K, Smith KS. Allosteric Regulation of Lactobacillus plantarum Xylulose 5-Phosphate/Fructose 6-Phosphate Phosphoketolase (Xfp). J Bacteriol. 2015 Apr;197(7);1157-63
Petrillo C, Cesana D, Piras F, et al. Cyclosporin a and rapamycin relieve distinct lentiviral restriction blocks in hematopoietic stem and progenitor cells. Mol Ther. 2015 Feb;23(2);352-62
Simons C, Rash LD, Crawford J, et al. Mutations in the voltage-gated potassium channel gene KCNH1 cause Temple-Baraitser syndrome and epilepsy. Nat Genet. 2014 Dec;47(1);73-7

See more recent peer-reviewed publications that cite GenScript's Plasmid Prep. Services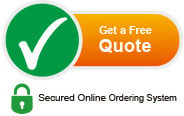 Quotations and Ordering
For quotation requests and questions about plasmid DNA preparation, you may contact us by phone, email, fax, or our secured online quotation system.
Our customer service representatives are available 24 hours Monday through Friday. You may contact us anytime for assistance.